Free shipping to anywhere in USA for orders over $75! Now shipping Worldwide!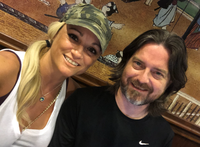 About Us
Josh & Cherylyn have been married for 13 years and have three beautiful daughters: Jaycee, Sydney and Shawn. Josh has over twenty years of experience in computer programming and IT systems. Cherylyn was an Executive Assistant before becoming a stay-at-home mom over 10 years ago.
Josh was laid off in mid-March and decided to research things he could do to help the frontline workers battling the COVID-19 epidemic. He and Cherylyn ended up designing a 3D printed face shield and they shared their design on a local Facebook group. It went viral from there and donations, support and volunteers poured in from all over the state. With help from over 30 volunteers, they ended up donating over 10,000 face shields to healthcare workers in need in just over a month.
A local dentist asked if their face shield design could be modified to cover dental loupes, and LoupeLid was born - a face shield that is large enough to cover dental loupes and lights!
Josh is responsible for producing thousands of components, ordering supplies and managing the website and backend IT systems. Cherylyn manages the assembly and shipping of our products. She also manages our Social Media accounts and public relations.
We hope you enjoy our products as much as we have enjoyed creating them! Make sure to sign up for our newsletter to get the latest updates and special offers.
Special Thanks To
Rebecca Gaglia
Rebecca is a 2nd year medical student and Biomedical PhD candidate at Oklahoma State University Center for Health Sciences in Tulsa. She holds a BA in Philosophy from the University of Tulsa. She has 2 boys that constantly eat everything in her house but she loves them anyway. She is deeply and personally motivated to be able to provide PPE to medical professionals during this crisis. She managed almost 30 volunteers who assembled our donated face shields.
Ravi Kode, Cardiologist
Ravi generously donated several 3D printers to our printing farm, greatly increasing our output!
Todd Andrews, Marketing Genius
Todd specializes in the creative, design and brand strategy industries. He created and donated our original logo!
Jesse Brownfield, Iron Rose Workshops
Jesse introduced us to the wonders of laser cutting. We can laser cut visors about 10x faster! Check out his amazing Etsy shop.
Jeff & Pam Swanson
Jeff & Pam own the house that we rent. They were incredibly generous and forgiving while we concentrated on this project.
Brooke Cox, The Nap Nook
Brooke pivoted from sewing pillows to sewing masks and helping those in need. She raises donations for us on her site, The Nap Nook.
Tyler Huffman, Video/Photo Production
Tyler took some amazing product shots with our face shields. We have no idea how he took great pictures of clear plastic, but he did!
Local Makers
These local makers and businesses helped us by 3D printing and/or laser cutting visors to be donated. Without their help, we wouldn't have been able to donate as many face shields!
FlightSafety, Ryan Kriegsman - OK PPE, Clarence Shaw, Jesse Brownfield, Scott Kramer
GoFundMe Donors
The GoFundMe helps us eat and pay bills while we work on this project full time. Thank you to our donors: Amanda Carey, Amy Sanders, Anna Platt, April, Caleb, Brad Hopkins, Brandon Moody, Brenda Timm, Carman Cirimele, Carrie D. Tuck, Carrie Holmes, Cathy, Cherry Trinidad, Christina Richards, Christine Po, Courtney White, Crystal David, Crystal Throckmorton, Darita D. Poplin, Darla R. Spotts, Deborah Coffman, Elizabeth Hall, Hannah, James, Jane Noble, Jessicah Gilmore Bowin, Joe & Kelly Pike, Jordan Guernsey, Julia R Bacher, Julianne Hand, Justine Anderson, Kathy Boss, Kelsie Sullivan, Kevin Jones, Krista, Krystle Jones, Laura R Cole Posch, Linda Monroe, Lloyd Campbell, Lynn M Terry, Marci Kistler, Marissa Mitchell, Michelle Nuckols, Randa Jankowski, Rebecca Harrison, Rebecca L. Rover, Rhiannon Prest, Robyn Jennings, Sabrina Triplett, Sarah J. Harris, Taylor Brandwein, Vickie Brown, Virginia Robertson, Wayne Brennan
Amazon Wishlist Donors
We couldn't have donated as many shields without the generosity of our Amazon Wishlist donors: Rebecca Groo, Sherry Jones, Beverly Campbell, John Weigel, Krista Morris, Anetta Shearer, S&J Schmitt, Christopher McLean, Susan Barrett, Debra McCulloch, Derek Knoble, Carrie Holmes, Kristin Hastings, Jennifer K, Laura Cole Posch, Tiffany Wainwright, Joseph Callahan, Elizabeth Thiel, Melissa Shell, Cathy Furlong, Marina Lee, Matt Fore, Clint Rhea, Landon Frank, Marissa Mitchell-Gorman, Naima Lowe, Jeanette Parker, Kristy Ha, Teresa Tosh, Simon Han, Sherry Anderson, Rebecca Schmidt, Heidi Hopkins, Emelia LaFortune, Marissa Mitchell-Gorman, Linda Moslander, Brian Miller - Midwest Precision, Inc, Jamie McAnulty, Taylor Brandwein, Jennifer Clark, Tim McGee, Kaitlin Stroope, Michelle Murtaza-Rossini, Glenda Vaughn, Jami Sullins, Mariam Hanna, Bea Whittenburg, Debbie Rose, Sylvia Prussack, Tom & Trudy Underwood, Jamie Chambers, Corbyn VanBrunt, Nicole Cosmann, Melissa Shell, Lisa Potter, Cody Williams, Merlene Berg, Jennifer Humphries, Tracey Radi, Jan Hodges, Erin Pierce, Emilie Tindle, Linda Fisher, Brooke Hensley, Sarah McClanahan, Addie Holland, Catherine Milner, LeeAnn Peterson
Facebook Fundraiser Donors
Thank you to our friends on Facebook for your generous donations: Kindler J. Chase, Dwayne Townsend, Chris McLean, Mark Lawrence, Ivan Gray, Karen Cantrell, Sarah J Anderson, Jamie Stacy Knowles, Katty Haggard, Kristi Mitchell Frank, Elizabeth Anderson Bouch, Heather Lesley, Brittney Rose, Angel Sparks Duncan
Same day shipping
with RUSH delivery option
Fast Support
via Email or Phone
100% Satisfaction
or we'll make it right!
Free Shipping to USA
for orders over $75